While growing up, I used to spot an older generation of men playing cards in the evening after finishing their day's work, and sometimes on Sunday afternoon, occasionally swapping cards with a few games of Carom. During that time, I had no idea about playing cards – it was only after I was in University that we started playing different card games to kill time.
And gradually, we all ended up becoming fans of various card games, but my favorite has always been Rummy. Today, I am going to talk at length about the different rummy rules, how to play the game, and a general overview. Keep reading to find out all that you have to know about the same!
Playing Rummy? But Wait, What's Rummy?
Before we start decoding the rummy rules, let's talk a little bit about the game of Rummy in some detail. Check out the table mentioned below to find out the information you have been looking for!
| | |
| --- | --- |
| Origin | Mexico |
| Age range | All |
| Cards | 52 (but can vary on the type of game) |
| Deck | French |
| Play | Clockwise |
| Playing Time | 15 minutes |
| Random Chance | Medium |
| Related Game | Conquian |
So what's Rummy? Rummy is one of those card games which is often played with the help of two different card decks, accompanied by two jokers. In this game of cards, every player is given (dealt with) thirteen cards which the players arranged in sets and sequences. For winning a Rummy game, players are required to make a sort of valid declaration by simply picking as well as discarding cards from the given piles.
There are various ways of playing Rummy, such as Gin Rummy or Michigan Rummy – the rules vary only a little. For example, gin rummy rules don't vary a lot from the general rules of playing Rummy or from that of Michigan rummy rules. In fact, if you learn one kind, learning the other types won't be a problem.
How To Play Rummy? Objectives And Rules!
So without wasting any more time, let's find out in detail about the rummy game rules – I have also added a number of objectives that will help you understand the game of rummy much better – scroll down and find out all that you have to know about finding out more about the top rummy scoring rules.
Objectives Of Playing Rummy:
The objective of playing rummy are as follows,
The first and foremost objective of paying rummy is to make sure you are arranging all your 13 cards in all the required combinations while making a valid declaration of sorts to all your opponents.
For making ant valid declaration, you have to opt for creating either 'sequences and sets' or just sequences. Some examples of valid declarations are '3 sequences + 1 set,' '2 sequences + 2 sets,' or all cards in a sequence.
For obtaining any valid declaration or hand, players must work on creating two sequences at the very least – one must be a pure one, on top of that.
If you end up declaring any pure sequence then you will end up losing and that too by a pretty big margin – this is because all your points end getting added as penalty points.
Rummy Rules: How To Play Rummy?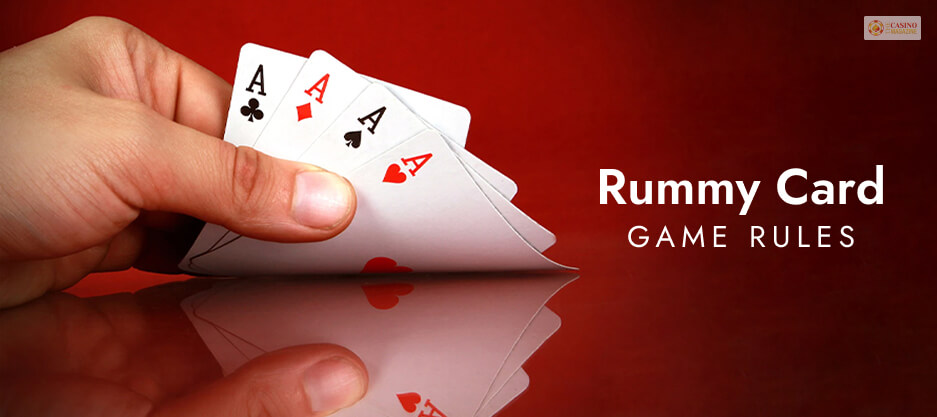 As I have mentioned earlier, there are different variations of the game – so Liverpool rummy rules will not differ a lot from shanghai rummy rules. So let's check out the rules mentioned below.
At the very beginning of the game, every player is given 13 cards. Remember that a round of Rummy usually involves six players and your usual deck comprising 52 cards along with a joker.
The cards that are left are used for forming a 'closed deck' and kept face down in the middle of the table. The card on top is simply picked up and then placed up with it facing up – this forms your open deck for players to discard cards!
Any random card is chosen to be the wild Joker. The cards which are of similar value or rank that remain behind also stay as wild Jokers for that game.
For every turn, players have to choose a card from either the open or closed deck and accordingly begin discarding cards for the open deck.
For

winning a game of Rummy

, you need to familiarize yourself with all the popular rummy score rules and make sure you have arranged cards in sequences and sets. For making a declaration that's valid, players must make two sequences at the very least, one of which is just a pure sequence.
Today, there are several places where you can check out the skills of playing Rummy. All you need to do in this context is remember that different varieties of Rummy do not have different rules in all cases – contract rummy rules, for instance, won't differ a lot from that of rummy 500 rules. Happy playing!
Frequently Asked Questions (FAQs):
1. What Are The Rounds Of Rummy?
Each game of rummy has seven rounds with unique rules applicable to every single hand. While an individual player starts as the dealer for the 1st round, the player positioned beside the dealer becomes the dealer in the second round – every player is given ten cards for four rounds initially, and then the number is increased to 12 for the final three rounds.

2. What Is The Correct Sequence In Rummy?
The order or the correct sequence of cards in Rummy is as follows, 'A, 2, 3, 4, 5, 6, 7, 8, 9, 10, J, Q, K, A.' This basically means that sequences such as 'A,' '2', '3' and 'Q,' 'K,' 'A' are allowed. But at the same time, it also means that a sequence like 'K,' 'A, '2 is not really allowed in this game of cards. 

3. What Are The Rules For Rummy On The Board?
For declaring rummy, players must not lay off or meld any cards before or even while the hand is being played. If you are playing with the rule of discard, then make sure that all the players actually discard once they are done with melding. In case a player actually opts to go rummy while a card can still be played, the player actually gets out for that particular turn.

4. How Many Cards Do You Play In Rummy?
Rum or Rummy is a conventional card-matching game that requires about two to six players accompanied by a normal card deck comprising about 52 cards with Aces low and Kings high. The purpose of a game of rummy is to gain the most amount of points by the end of the game. 

And It's A Wrap!
The rummy rules are not as complicated as you initially assumed, considering people have been playing this game for a long time now. In fact, the game has evolved over time, with different varieties of the game spread all over the internet – from online to offline, the alternatives of the same are plenty.
If you have been looking up the rules for rummy, then you might have come across different rules for so many varieties of the same. Meanwhile, tell us if this article helped you and whether you have any experiences of playing the game in the comments section below.
READ MORE: